Dental Implants in Upland, CA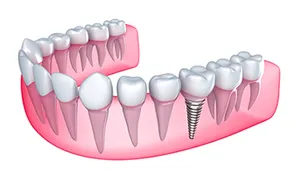 Are you tired of looking in the mirror and seeing large gaps in your smile where your teeth used to be? Do you want to feel more confident smiling, or do you simply want to be able to eat without having to deal with constant chewing problems? Tooth loss is a serious issue, and it happens to millions of Americans. If you are interested in getting your beautiful smile back after tooth loss, our Upland, CA dentists Dr. Cristina Petit, Dr. James Shunk, and Dr. Thanh Do can provide you with long-lasting and incredibly durable dental implants.
We recommend dental implants to most healthy adults who are missing at least one permanent tooth. We look at a patient's overall health as well as their oral health to determine if implants are right for them. We want someone who is dedicated to maintaining a healthy smile because that also means that they are going to be dedicated to maintaining a healthy implant.
How Do Dental Implants Work?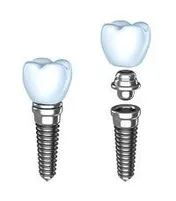 Dental implants can be used to replace any missing teeth. The implant itself is simply a small titanium post that is surgically implanted into the jawbone where it replaces the missing tooth roots. About 3-6 months after the implant has been placed into the jawbone, the bone and tissue grows around the implant and integrate with it to become one. Once the implant is a permanent part of the jawbone then we can secure the artificial tooth (aka a dental crown) or artificial teeth (aka a bridge or full dentures) on top.

Living With Dental Implants - Upland, CA
Our dental implants are designed with the latest and most advanced technology, which promises an artificial tooth that is just as strong, resilient, and functional as your natural teeth. You'll be able to enjoy all of your favorite foods again without worry. Any speech issues you faced as a result of tooth loss should clear up with a full smile again. Not to mention, you'll have a gorgeous full set of teeth that you can't wait to show off. Implants can and will get you smiling again.
If You Are Interested In Replacing Missing Teeth With Dental Implants, Call Petit & Shunk In Upland, CA At (909) 982-0010 Today!